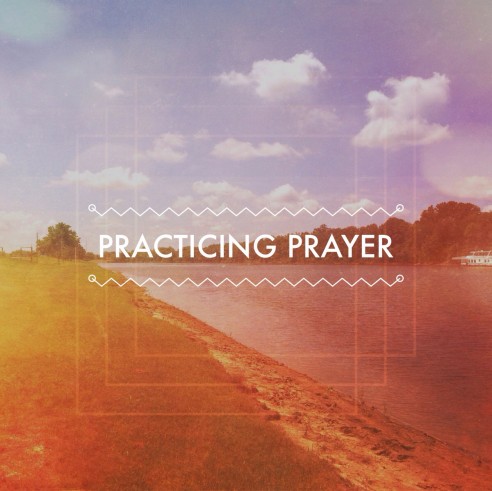 Over Lent, St. Paul's is centering our worship and study on Richard Foster's classic book The Celebration of Discipline. Our first week we are thinking about prayer. It is a perfect way to begin practicing Lent as a church.
Prayer has not come easy to me. I have written about my own practices for prayer around the blog before (here and here). This Sunday our scripture is taken from the beautiful passage in the sermon on the mount when Jesus shares a prayer method with his disciples. It is a great beginning to practicing prayer.
When you pray, don't be like the hypocrites who love to pray publicly on street corners and in the synagogues where everyone can see them. I tell you the truth, that is all the reward they will ever get. But when you pray, go away by yourself, shut the door behind you, and pray to your Father in private. Then your Father, who sees everything, will reward you.

"When you pray, don't babble on and on as people of other religions do. They think their prayers are answered merely by repeating their words again and again. Don't be like them, for your Father knows exactly what you need even before you ask him! Pray like this:

Our Father in heaven,
may your name be kept holy.
May your Kingdom come soon.
May your will be done on earth,
as it is in heaven.
Give us today the food we need,
and forgive us our sins,
as we have forgiven those who sin against us.
And don't let us yield to temptation,
but rescue us from the evil one.

"If you forgive those who sin against you, your heavenly Father will forgive you. But if you refuse to forgive others, your Father will not forgive your sins. Matthew 6:5-15 (NLT)
Many of us grew up in church praying a version of this prayer every week. It might flow over our lips without us every really thinking about it. The Lords Prayer is an easy prayer because we don't have to figure out what to do. I think the greatest tension for many of us when we think about prayer is figuring out what to do…or how to move away from the basic actions of just checking off prayer requests.
The beauty of the Lord's prayer is a structure clearly not about the person praying. Instead, this prayer is focused on God, His world, what he is doing and how He helps the believers living in a world waiting for the kingdom.
Prayer builds the walls in God's house of our heart.
Many of our own personal troubles stem from having a small vision of who God is. It is impossible to have a big view of God without constantly being with him. So what happens is we come into circumstances where we really need him…without us really knowing him. We then default into manipulating God instead of understanding what faithfulness looks like. We try to control God. If we want God to have control over the big things, we need to spend the time in prayer to develop a big vision of who he is.
I'm excited to start this series on Spiritual Disciplines. This will be a great kick off week.
From Series: "Celebration of Discipline"
For Lent we are taking a journey into the disciplines. The disciplines are the garden in which we are planted and grown into mature followers of Christ.
More From "Celebration of Discipline"
What is a sermon preview?
Sermon previews are released on Friday's. They are to give YOU a short glimpse of what the conversation is going to be like on Sunday morning. On Monday, the preview is updated with some discussion questions, scripture guide and an mp3 of the sermon. I do these for 2 reasons. The first is so God can continue working in your life throughout the week. The second is for you to share this with a friend. I invite and encourage you to share the preview on Facebook/Twitter and through email.